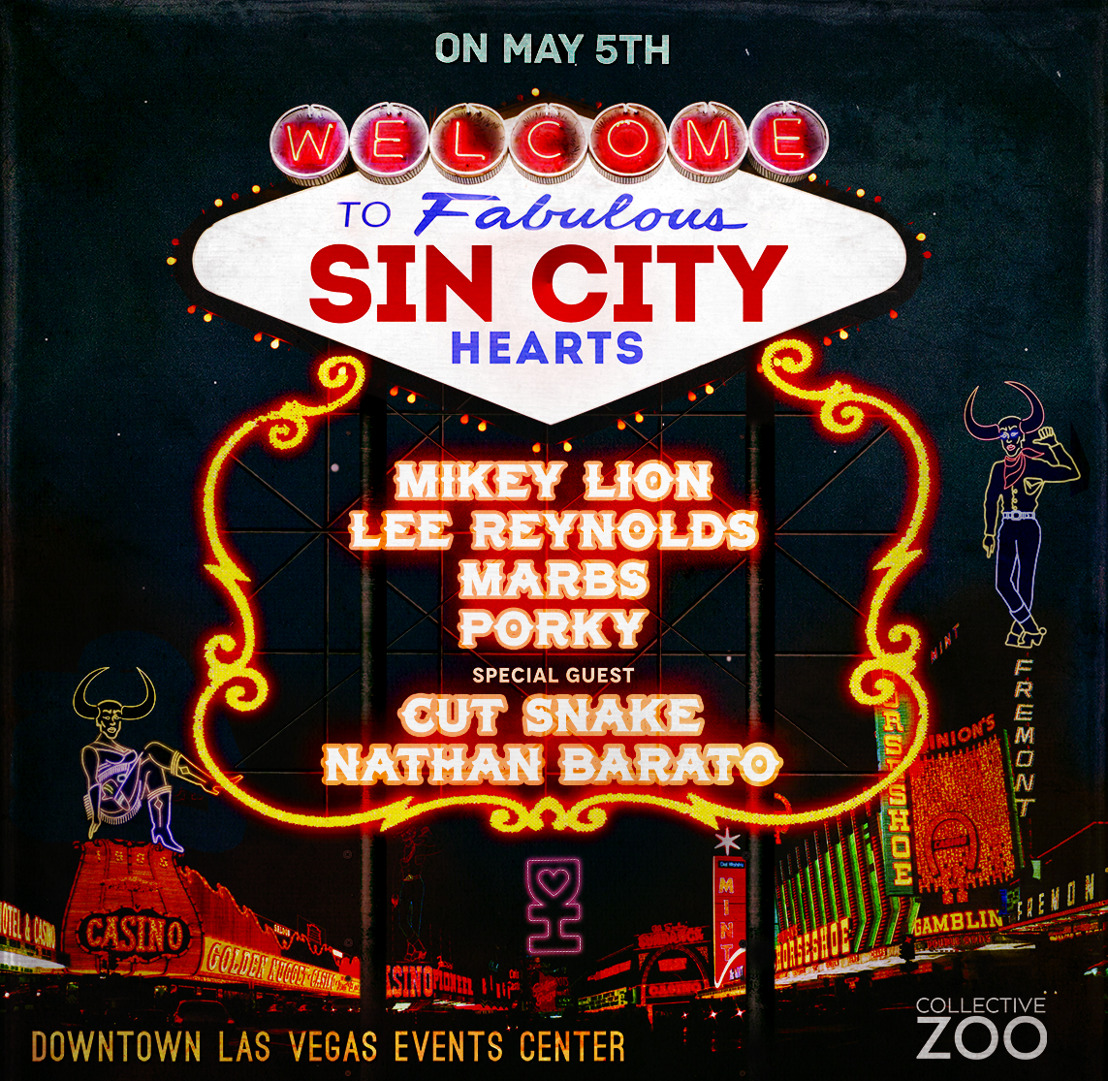 Sin City Hearts Comes to Las Vegas
Thursday, March 29, 2018 — 12 Hour Open-Air Event at Downtown Las Vegas Event Center on May 5th
Lineup Includes Mikey Lion, Lee Reynolds, Marbs, and Porky
Plus Special Guest Cut Snake & Nathan Barato
Tickets Available Here: http://bit.ly/SinCityHeartsTix
Produced in Collaboration with Las Vegas' CollectiveZoo
The weekend following their annual Spring Festival in Southern California, the Desert Hearts crew will come back to earth for their inaugural Sin City Hearts Festival offering 12 hours of House, Techno, and Love in the heart of Downtown Vegas.
Sin City Hearts will bring the iconic City Hearts Festival production, performers, vendors, and art to America's capital of debauchery - a fitting decompression for one of the dance music scene's wildest party families.
Joining the four core members Mikey Lion, Lee Reynolds, Marbs, and Porky, is Nathan Barato — Toronto Tech House's prodigal son who has seen massive releases on labels like elrow, Hot Creations, and Crosstown Rebels - as well as Australian house phenom Cut Snake.
In addition to their notorious sound and curation, Desert Hearts will craft a breadth of indulgences and delights for the senses including food trucks, immersive art Installations and live painting. With decompression in mind, fans will be treated to expansive lounge areas, amphitheater style seating and yoga classes aimed to regenerate and revitalize. Attendees can also expect to see stilt walkers, aerialists, and fire dancers performing amongst the dancefloor - a vibrant taste of the desert community infused into the modern creative hub of Downtown Las Vegas.
With the recent successes of their burgeoning label, roaming city parties, and annual event, Desert Hearts expects to flip Sin City on its head from Noon to Midnight on May 5th, 2018.
Connect with Desert Hearts
www.deserthearts.us
www.soundcloud.com/desert-hearts-records
www.facebook.com/wearedeserthearts
www.instagram.com/deserthearts
www.twitter.com/deserthearts
About Downtown Las Vegas Events Center
Located at the corner of Third St. and Carson Ave. in Downtown Las Vegas, Downtown Las Vegas Events Center is the ultimate entertainment destination. The 120,000-foot multipurpose space offers carefully designed layouts to create a unique and memorable experience for every curated event. Merging Vegas nostalgia with a modern touch, Downtown Las Vegas Events Center is inviting to both tourists and locals and embraces the spirit of the city with an eclectic line-up, ranging from music festivals, sport viewing parties and more. The venue features a state-of-the-art stage, sound and lighting design equipment and can accommodate up to 11,000 guests. For more information, visit www.dlvec.com or follow on Facebook, Instagram and Twitter at @DLVEC.